Welcome to the University of the Fraser Valley Regalia Ordering Home Page
Please have your Student Id Number ready when registering for your regalia.

IMPORTANT:

For those who are ordering a Masters of Education regalia,
please contact the university at [email protected] to inquire about the hood
ORDERING DETAILS
PRICING
Regalia rentals are $40.00 (taxes not included). Regalia includes gown, hood, cap and tassel. The cap and tassel are yours to keep.

Shipping cost is $40.00 (taxes not included).
Souvenir Package are $25.00 (taxes not included). Souvenir package includes Souvenir Gown, Souvenir Cap & Tassel.

Shipping cost is $20.00 (taxes not included).
To begin your order, click the "Continue" button at the bottom of the page. Please have your credit card and student ID on hand before your begin your regalia order.
EMAIL ORDER CONFIRMATION
You will receive 2 emails once your regalia registration is complete.
1. The first email will be from Build a Grad. This email order confirmation contains all the necessary details regarding your regalia order. Your Order Number will be on this order confirmation.
2. The second email will be from Gaspard. This contains payment information.
REGALIA IMAGES
SOUVENIR PACKAGE
(Includes Gown, Cap and Tassel with Gold Yeardate Charm)

SOUVENIR PACKAGE IS YOURS TO KEEP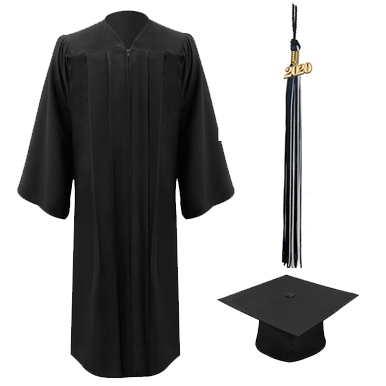 RENTAL REGALIA RETURN INSTRUCTIONS
RETURN DETAILS
Please return your regalia (gown and hood) within 3 weeks of receiving your order to:

Gaspard
1266 Fife Street
Winnipeg, Manitoba, R2X 2N6

A return shipping label will be provided with your order. Please do not lose this label.

The souvenir cap and tassel is yours to keep.
CANCELLATIONS
All cancellations for refund must be received before you order has been shipped. Refunds will not be accepted after.
Contact Us
Regalia services for University of the Fraser Valley are provided by Gaspard (Alpha Omega Department).

If there are any question or concerns, please call us at 1-800-683-4771 Monday to Friday 7:30 a.m. to 2:30 p.m. (PST) or email us at

[email protected]

.

To better serve you, please include your name, institution name, order number and/or student number in your email. If leaving a phone message please include all of the information and speak slowly as we need to write this information and want to return your call.


Thank you!
Continue